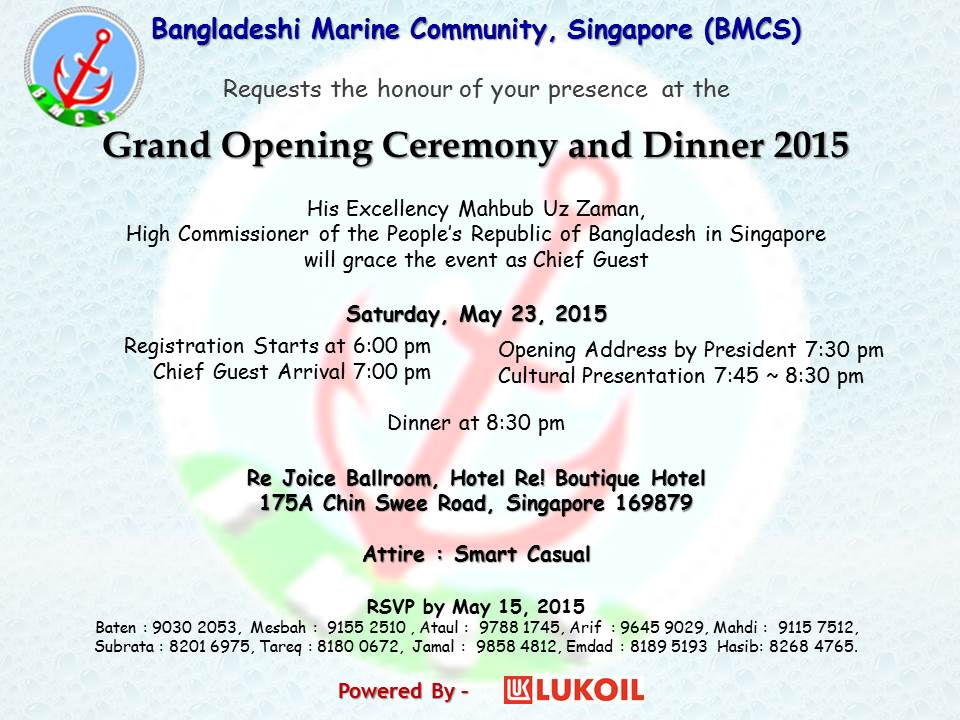 BMCS Grand Opening Ceremony and Annual Dinner 2015
Dear All in Singapore, Salam,
Bangladeshi Marine Community, Singapore (BMCS) requests the pleasure of you & your family members' graceful presence at the Grand Opening Ceremony and Annual Dinner 2015.
His Excellency Mahbub Uz Zaman, High Commissioner of the People's Republic of Bangladesh in Singapore will grace the event as Chief Guest.
Date & Time: Saturday, May 23, 2015
Registration Starts at 6:00 pm
Chief Guest Arrival 7:00 pm
Opening Address by President 7:30 pm
Cultural Presentation 7:45 ~ 8:30 pm
Dinner at 8:30 pm
Venue: Re Joice Ballroom, Hotel Re! Boutique Hotel, 175A Chin Swee Road, Singapore 169879
Dress Code : Smart Casual
Notes:
Location of the venue is in the City area nearby Outram Park MRT which is convenient for both staying East & West of Singapore.
Enough car parking, free of cost.
Free shuttle Bus from Outram Park MRT station to the Venue.
Children corner for our children.
Prayer room will be available.
Please register by 15 May 2015 @ 7pm through your respective Group Leader.
Group A (Senior most batch to 14th batch & contemporary): Mohammed Abdul Baten (HP: 9030 2053);
Group B (15th batch to 20th batch & contemporary): Mohammad Mesbah Uddin (HP: 9155 2510);
Group C (21st batch to 24th batch & contemporary): Arifur Rahman Khan (HP: 9645 9029);
Group D (25th batch & contemporary): Kazi Mohammed Mahdi Hasan (HP: 9115 7512);
Group E (26th batch & contemporary): Subrata Saha (HP: 8201 6975);
Group F (27th batch & contemporary): Tareq Mohammad Atiqur Rashid (HP: 8180 0672);
Group G (28th batch & contemporary): A K M Jamal Uddin (HP: 9858 4812);
Group H (29th batch& contemporary): Mohammad Emdad Hossain (HP: 8189 5193);
Group I (30th batch to below batch & contemporary): Hasan Mir Hasibul (HP: 8268 4765);
With best wishes,
Baten (18th)
On behalf of BMCS Sub-committee