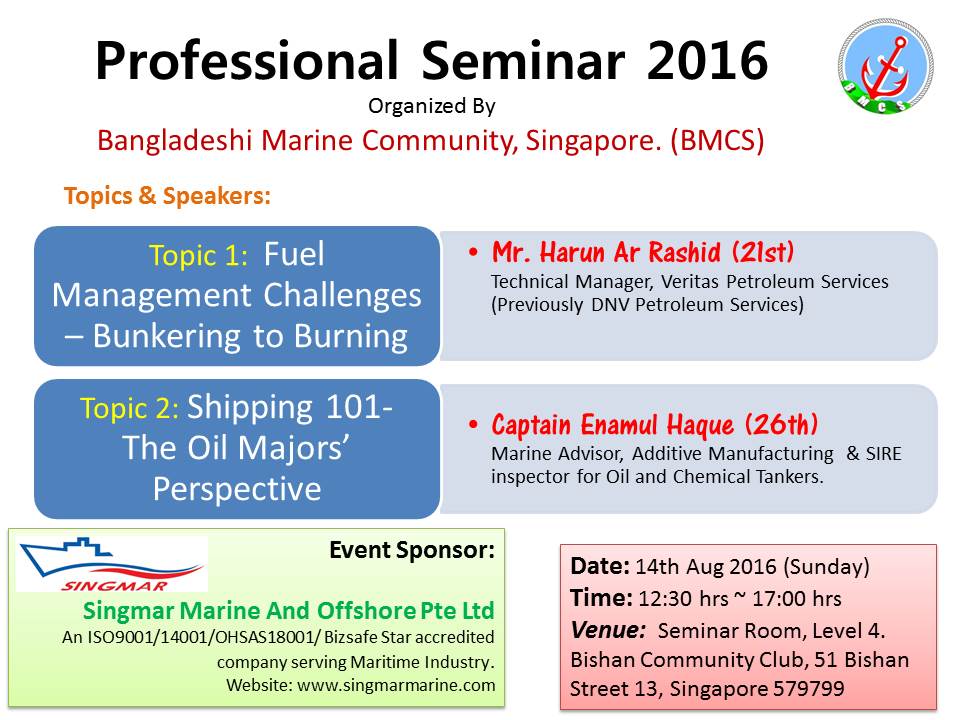 BMCS Professional Seminar 2016
Like previous year BMCS successfully organized Professional  Seminar for this year too on 14 August 2016.
We do appreciate the participants, the sponsors and volunteers for their kind presence and support to BMCS with professional integrity.
At the starting of the event everyone observed one minute silence in remembrance of Late Mr. Sanaul Hauque (13th).
————- Event Deatils——————
BMCS (Bangladeshi Marine Community, Singapore) Professional Seminar 2016.
Date:  14 August 2016, Sunday
Venue:  Seminar Room, Bishan Community Club, 51 Bishan Street 13, Singapore 579799
Time: 12:30 pm-5:00 pm
Topic 1:  "Fuel Management Challenges – Bunkering to Burning" Presented by Mr. Harun Ar Rashid ( 21 E)
Preamble:
Since Jan 2015, ships entering the ECAs (Emission control areas) are required to burn fuel with Sulfur content max 0.10%.
The ECA fuels are mainly LSMGO and about a tenth consists of Marine distillate and hybrid fuels which resemble DMB, RMB30 and RMD80 of 8217 grades. Outside the ECAs, ships can burn HSFO with a max Sulfur content of 3.50%. The ship operators face numerous challenges while using these fuels. This presentation will give a rare opportunity to the audience to learn more about these challenges and clarify any specific doubts they may have.
About our Speaker:
Md. Harun Ar Rashid has served on board petroleum tankers of Neptune Orient Lines and American Eagles Tankers at various ranks, including a number of years as Chief Engineer.
He joined the Veritas Petroleum Services (previously DNV Petroleum Services), Singapore in 2006. As technical manager, he deals with fuel quality related matters, advises clients and works closely with many engine makers. Providing external training and representing VPS in key industry discussions are also part of his job responsibilities.
His papers have been published by Lloyd's List, the Business Times, Seatrade Asia Week, Bunker Bulletin, Ship & Bunker, the Japan Institute of Marine Engineering (JIME) Journal and the Marine Professional.
Mr. Harun holds a Master's degree in Maritime Studies from Nanyang Technological University in Singapore and a Graduate diploma in Maritime Law and Arbitration from the National University of Singapore.
Topic 2:  "Shipping 101- The Oil Majors' Perspective" Presented by Capt. Enamul Haque (26 N )
Preamble:
Oil shipping accounts for nearly a third of global maritime trade. Huge quantities of Crude Oil and Refined Petroleum Products are transported by ship between production sites, refineries and points of consumption.
Drilling is carried out after studies of structural geology beneath the earth's surface for collection of crude oil. According to the composition of the crude oil and depending on the demands of the market, refineries can produce different shares of petroleum products.
The speaker will give an overview of the oil processing and intervention of the Oil Majors in transporting of oil by Sea.
About our Speaker:
Capt. Enamul Haque is currently working as Marine Advisor in an additive manufacturing plant.
In 1992, Capt. Enam started sailing as Deck Cadet with Orient Ship Management (OSM) and sailed on tankers and Oil/Ore Carriers through ranks. After commanding few VLCCs (belonged to Front line), in 2005 he moved ashore and worked as Marine Superintendent for about 2 years.
In March 2007, he joined with one of the Oil Majors in their Ship Vetting Department and since then he has been through various roles in Ship Vetting, Commercial (Chemical Tanker Chartering & Operation), Barge Management in Asia Pacific Region, Marine Terminal Operations, Critical Equipment Transhipment etc. He has also participated in various FPSO, FSO, SPM Marine Audits and TMSA Audits.
He obtained MSc in Maritime Studies from Nanyang Technological University in 2007. He is also an Accredited SIRE (Cat. 1) inspector for Oil and Chemical Tankers.
—————————-
Thanks
Md Ataul Majid (26N)
General Secretary, Bangladeshi Marine Community, Singapore.
Save