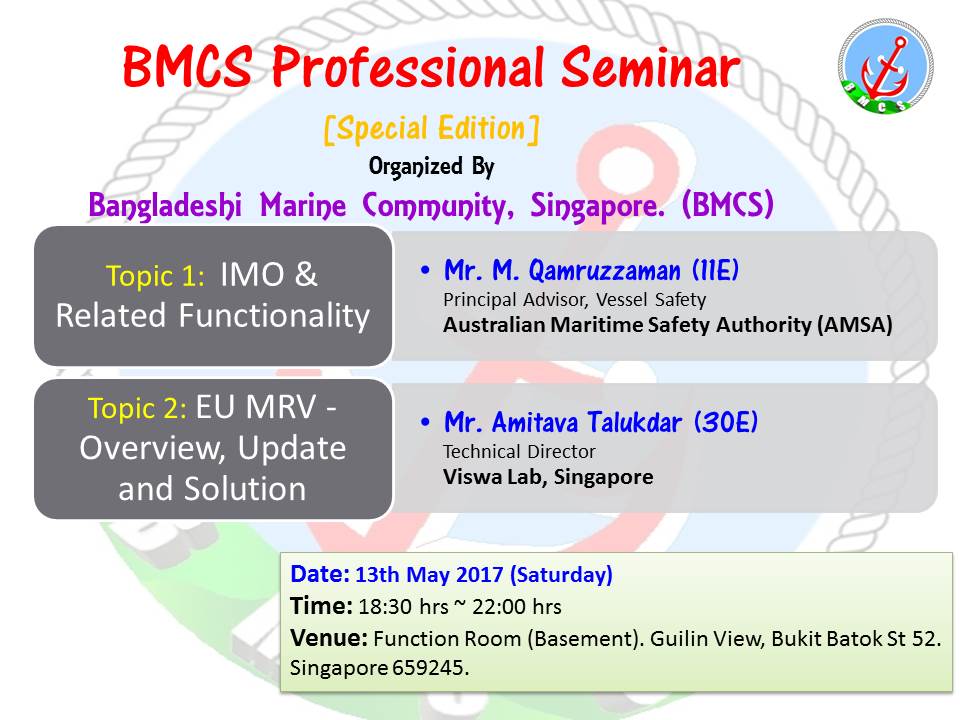 BMCS Professional Seminar [Special Edition] : 13 May 2017
BMCS delighted to announce that their special edition of Professional Seminar was successfully completed on 13 May 2017.
Event was inaugurated with the introductory speech from BMCS seretary Mr. Emdad Hossain (29th). The evening was more deligh
tful
with the active participation of a good number of audiences. Event was emceed by BMCS Professional Development secretary Mr. AKM Jamal Uddin (28th).

It was our great pleasure that Mr. M. Qamruzzaman

from 11E, [Principal Advisor, Vessel Safety, AMSA] has graced the event as the key speaker .
He delivered his speech on "IMO to National legislations – How it works" and replied to our related queries.
Our 2nd speaker was Mr. Amitava Talukdar (30E), [Technical Director, Viswa Lab Singapore] who delivered his speech on the most interesting forthcoming topic – EU MRV (European Union MRV: Monitoring, Reporting and Verification of CO2 emission from Maritime Transport).
BMCS President Mr. Zahirul Islam (12th) presented the token appreciation to both the speakers.
At the end of the event all the participants enjoyed their dinner, networking and photography moments.
Event curtain was pulled down by the closing speech of the BMCS President including appreciation for the organizers, audiences and the panel of speakers.
Presentation Materials:
---
Program Details:
---
Date: 13th May 2017 (Saturday)
Time: 18:30 hrs ~ 22:00 hrs
Venue: Function Room (Basement). Guilin View, Bukit Batok St 52. Singapore 659245.
Topic 1: IMO & Related Functionality
Presentation by: Mr. M. Qamruzzaman (11E), Principal Advisor, Vessel Safety, Australian Maritime Safety Authority (AMSA)
Topic 2: EU MRV – Overview, Update and Solution.
Presentation by: Mr. Amitava Talukdar (30E), Technical Director, Viswa Lab, Singapore.
---
---
Save
Save
Save
Save
Save
Save
Save
Save
Save
Save