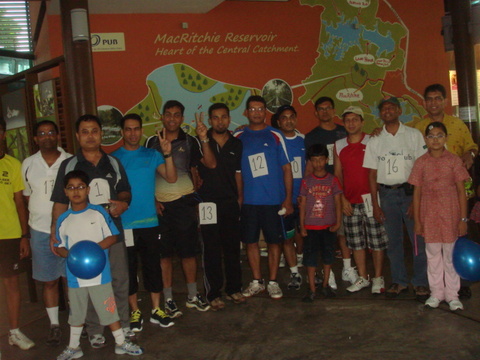 Healthy life style campaign: "Cross Country"
Date: 26 October 2011        Venue: Mac Ritchie Reservoir Trail
Organized By : SMC, Singapore.
Bangladeshi Marine Community at Singapore (SMC) organized an event " Cross-country" as part of the healthy campaign initiative.
The event marked a milestone for SMC and it turned to be a Family Adventure.
The most Senior Mariner joined and completed the race; Quadery Sir, 5C Batch. The most Junior competitor was JISHAN (Enam's (26) son), 4 yrs old, completed full 6 KM race and secured his place to get a trophy (with in first 30).
More than 60 competitors completed the race including our Bhabis, and mariners' children.
Cross-country Champion: EHAN (15 yrs old, Mustafiz's (18) son). EHAN completed the race (6 KM) within 25 minutes.
We have proved its possible to make a meaningful event and we will continue. We want to see father is being defeated by his son and that will be great achievement for sure. Like Ehan (Son of Mustafiz 18th) became first in the race and we need to continue this trend to encourage more and more.
We take great pleasure to thank each & every SMC member in joining & making today's "Cross Country" event a great success.
Thanks to those also, who supported mentally but could not join due to their other earlier job commitments. Also will take this opportunity to wish special thanks to all the volunteers making this happen in a very short period of time.
We all wish to see again in our next event, which we hope even much bigger scale. Awaiting to see similar events organized by SMC and wishing to get full support by all our SMC members.