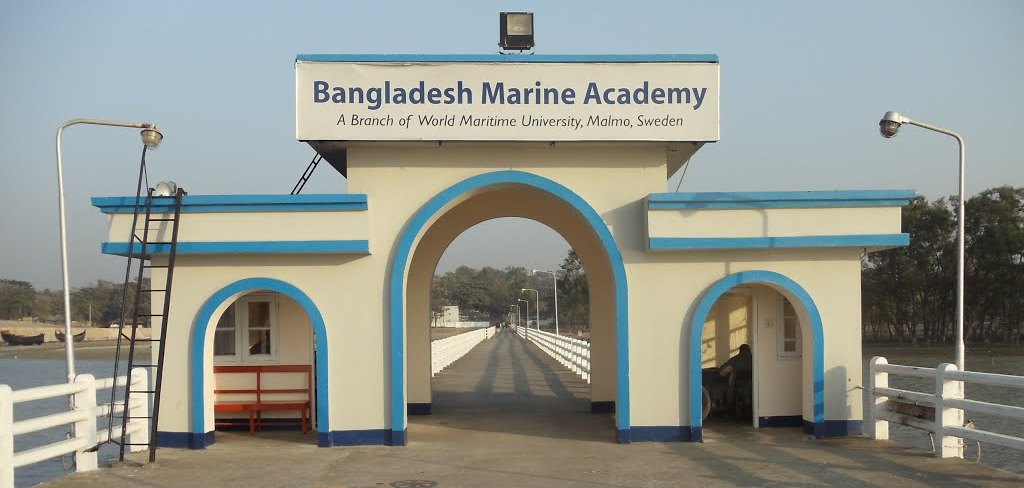 I Remember Marine Academy, Juldia Chittagong : Mubashir Ahmed Khan (2E)
I belong to the 2nd Batch of the Academy, so about five decades ago, I was Engineering cadet at this Institution. The Academy started functioning in September 1962. It's first name was Mercantile Marine Academy but soon after it became Marine Academy. Once a quiz competition was held at the Academy ( I was junior cadet then ), a question was put to the participating cadets, "who laid the foundation stone of the Academy?" The answer was, "nobody". So no such ceremony of stone laying of this Institution had ever been held. The first Commandant of the Academy was Commodore M Asif Alavi. The faculty staff included Commander M A Ansari, Head of the Engineering Dapartment. He was also known as Chief Engineer. Mr Aqil Quraishi (ex-chief engineer, merchant navy) was Engineering Lecturer. His designation at the Academy was that of Second Engineer. Mr Aqil Quraishi, later on retired as Engineer Surveyor and Chief Examiner of Engineers in Karachi. It is interesting to note that in the early years of the Academy, mechant ship's ranks were used for the professional staff members. In addition to Chief Engineer and Second Engineer, there was one Chief Officer also. He was Captain Nazar Hussain Shah, the Head of the Nautical Department. During our cadetship period, Captain Mukri Joined the Academy to replace Nazar Hussain Shah who took command of the newly acquired Vessel M V Abasin owned by the National Shipping Corporation of Pakistan. Late Noorul Amin (Education Officer) taught us Physics and later on Abdul Hakim also joined the Academy as Education Officer. He taught Physics and Maths to cadets. There was a Scottish Lecturer Captain Watkinson who taught at the Academy for a period of about two and a half years. I remember the farewell lunch given in his honour and the presents from the cadets when he was leaving for Scotland. Captain Watkinson was Extra Master and taught Navigation/Seamanship to the Nautical cadets. He always wore white shirt and pant (not uniform) and would come to the Academy two/ three days a week by boat. On other week days he probably performed some other official duties related to shipping affairs.
Lt. Commander Asrarullah was Head of the Education Department. In addition to giving lectures, he was responsible for the day to day affairs of the cadets. Lt. Commander Asrarullah had excellent memory and a good sense of humour. He would come to his office early in the morning and his breakfast would be brought for him later on. Late night also, he could be seen sitting in his office doing work. Captain N H Shah would call Asrarullah sahib as "Headmaster".
Now I shall give some details of how I managed to join the Academy as cadet. I was student of BSc (Honours) in Mathematics at Dacca (now Dhaka) University and had completed my first year of study. Before this, I had come to know about the establishment of the Mercantile Marine Academy in Chittagong. In fact, Commodore M Asif Alavi had come to Dacca (Dhaka) University to give a lecture. I was also among the audience students. He introduced himself as the Commandant of Marine Academy and at the end of lecture, he answered questions put to him by the students. ( Here the readers of this article might be curious to know that being a Pashto speaking Pathan belonging to the North of Pakistan/Peshawar, how I had landed up at Dhaka University in the first place. I passed my Intermediate Examination from Islamia College Pashawar in 1962. It was called FSc in West Pakistan/now Pakistan. It's equivalent in East Pakistan/now Bangladesh was known as ISc. Under the Federal Government of Pakistan, an Interwing Student Exchange Programme had been started in 1961. Under this Programme, 20 students would be selected from West Pakistan/Pakistan to study under scholarship in different universities of East Pakistan/Bangladesh. Similarly, every year 20 students would be sent from Bangladesh to do high degree courses in Pakistan. I was selected under this Scheme for BSc Honours though I was keen for BSc Engineering. BSc/MSc path was not satisfying for me so joining the Academy seemed to be a better option for my future career. The opportunity was there and by the grace of God Almighty, I successfully availed it. At Dhaka University, there were other students also who had applied for admission to the Academy. They were Mr. Hussain Imam and Mr. Faiz Ahmad Biswas, both from the Chemistry Department. Other applicants I came to were Qazi Kamaluddin, C F Zaman and Qamrul Azam Ansari. The written examination was held at Dhaka College (near New Market). There were four papers, i.e. Maths, Physics, English and General Knowledge. I was the only candidate who appeared in this examination on the basis of West Pakistan domicile. The Marine Academy policy was to select 21 cadets from West Pakistan and 21 from Purbo Pakistan. The candidates who passed the written examination were called for interview in Dhaka. The Interview team was headed by the Commandant, Commodore M Asif Alavi. The other members were Commander M A Ansari and Lt. Commander Asrarullah. I remember well when Lt. Commander Asrarullah came out of the Interview room and called my name. I still remember the questions put to me by the Commandant , M A Ansari and answers given by me. The interview went well. The last candidate to be interviewed was late Jehangir Habib. After the interviews were over, the Commandant assembled all candidates and delivered a speech. He had excellent command over English and would never miss any opportunity to give speech. It was his way of visiting educational institutions throughout Pakistan ( East and West Wings) and giving speeches to students.
The list of selected candidates (2nd Batch) came in the newspapers. We also received letters from the Academy with instructions and date of arrival at the Academy. Before joining the Academy, I had the lucky opportunity of meeting in Dhaka, three cadets of the 1st Batch. These were Captain Belayet Hussain, Captain Zahiruddin Mahmud and M T Siddique. I got useful information from them about life in the Academy and merchant navy career. Myself, Hussain Imam, Faiz Ahmad Biswas and Qamrul Azam almost together made preparations for our journey to Chittagong for reporting at the Academy. These gentlemen deposited money with me to book second class berths for four of us in train from Dhaka to Chittagong. It was at about 10 pm, on the 30th of September 1963 that our train journey started. C F Zaman, Qazi Kamaluddin, Sultan Ahmad Taufiq and Aminul Haq were also travelling with us in another compartment of the train. We reached Chittagong next day in the morning and met other cadets at the Rail Station. We were taken in groups in the Academy's vehicle to the jetty and then by boat to the Academy. It was almost afternoon that we were finally at the Academy. All cadets of the 2nd Batch were gathered in rows in front of the Cadets Block and Lt. Commander Asrarullah came out of his office. I was surprised to note that he addressed each cadet by his name. He welcomed the new cadets and gave some verbal instructions. We were then handed over to our seniors. I was placed in Mizzen Top. Late Salahuddin was Cadet Captain and late Ali Sarwar, the Leading Cadet of our Division. (Ali Sarwar passed away recently in Karachi. May his soul rest in peace. Amen). It is interesting to note here that our seniors were Engineering cadets only. During the summer holidays, it was decided by the Academy management that the 1st Batch Nautical cadets should join ships instead of coming to the Academy for the second year of study. However this exercise was done only once. Later on, both Nautical and Engineering cadets would study for two years (four terms) in the Academy. We juniors did not get tough time or serious ragging from our seniors as they did not themselves have the experience of such things. During out time, the Academy was in some sort of infancy and many facilities were non existent. There was no swimming pool. There was no cinema or television and no overhead projector. The Academy did not have even photocopiers. There was one cyclostyle machine for printing sketches and exam papers. Tape Recorder was something rare and the Academy did not have it. Computor was not known and video had not been invented then. For recreation, there was one three band radio in the smoke room. A record player came later on. The indoor games consisted of table tennis, carom boards and playing cards only. Sports facilities were however ample. Cadets played football,volleyball, badminton, softball and basketball on regular basis. Cricket was played on weekends. Some of the cadets were very good players. Every cadet was involved actively in boat handling, sailing and rowing. There was no tennis court on the Academy premises at that time.

The Academy was located on the other bank of Karnafully River. There was no bridge on the River so naturally going from the Academy to Coal Depot jetty on the other side of the River was by boat. The Academy had two boats which were at the mooring almost in the middle of the River. One was Lifeboat, also known as Sindbad. The other boat was called Kingfisher. The Academy Jetty was under construction, therefore the short distance between River bank and boats was covered by sampan. The Jetty had severely being damaged by cyclone before our joining. The construction work on the jetty continued during our stay and had almost completed by our passing out in July 1965. However, finishing touches still remained to done. By this time, the boats could easily come alongside the Jetty and sampan service was no longer required. Slightly before our passing out, The Academy acquired a new boat. It was built at Narayanganj and named Noorjehan. Lt. Commander Asrarullah told us that the new boat had cost the Academy one lac eighteen thousand (118000) rupees (takas). It was a huge amount of money at that time. In addition, the Academy had three more boats also. One (with no name) was used by the cadets for rowing practice in Karnafully River. The other two sailing boats would be kept in the nearby pond for the sailing exercise of cadets.
The Chittagong Airport was located just opposite the Academy on the other side of Karnafully. With the help of binoculars, we could easily see the taking off and landing of aircrafts on the runway. Also watching merchant ships passing near the Academy while leaving or entering Chittagong Port used to be something we enjoyed. I remember one day when M V Safina-e-Arab with Hajis ( pilgrims) on board had left Chittagong Port and was bound for Jeddah. The Ship was well decorated with flags. There were other cargo cum passenger ships which ran regularly between Karachi and Chittagong. These were M V Shams, M V Rustom and M V Ocean Energy. These vessels would carry pilgrims also from Karachi and Chittagong to Jeddah during Haj season. It was due to the personal effort and excellent public relations skill of Lt. Commander Asrarullah that the Academy cadets would travel onboard these ships between Chittagong and Karachi free of charge. However these cadets would not mere passengers. On board, the Nautical cadets would do chipping and painting, also helping the watch-keeping officer on Bridge. The Engineering cadets would spend four to six hours in the Engine Room doing watch or helping the day work engineer of the ship. I remember well that on completion of first year, I came to Karachi alongwith other fellow cadets on board M V Rustom. After passing out in 1965, I sailed to Karachi on board M V Ocean Energy. These ships would stop at Columbo for about a day for Bunker. Interestingly, we cadets having no passport or CDC would be allowed to go ashore for a few hours.
---
Mubashir Ahmed (Khan) 2E
Email. Mubashira2050@gmail.com
London 29.04.2017