Three Bangladeshi mariners released from Nigerian jail
By the grace of Almighty our three brothers started their historical journey from Nigeria to Bangladesh on 01 May 2016 and arrived Dhaka safely by Emirates via Dubai EK0786 & EK0586. Remaining brother Zahirul expected to be released by next week. Arrangement for the deficit fund in progress.
Once the news was published "4 BD Mariners in Nigerian Jail", Bangladeshi Marine Community took the initiative since last Dec 2015.  Bangladeshi Mariners from all over the world have shown their great humanity and acted as a unit to resolve the matter. Appreciate and thankful to all who contributed behind this success. We are proud being members of this community which is fortunate to have so many generous persons. Really appreciate the kind gesture and indeed overjoyed with heartfelt feelings.
Hope this success will encourage us to remain united to resolve any dispute in future.
————–
Alhamdulillah,
Finally three of our brothers stepped their footsteps on their motherland. we, friends, relatives, and well-wishers are very thankful to all. 
Special thanks to president of BMMOA CDapt. Zillur sir (11BD) & his full team. Also all our respected overseas fellow mariners (USA, UK, AUS, UAE & Middle East, SINGAPORE & Far East, CANADA and all others).
But once again,  may I remind you all, Mission is not complete until our last brother Zahirul is back in Bangladesh. We all pray for his earliest release from Nigeria jail & safe return back to Bangladesh home.
Please find attached photo of Rafiqul Islam and shahin.  We couldn't find Pumpman Shibli as he was received by barrister Taufiq and they left the place immediately.
[In photo Rafiq and shahin with 44 th batch BMA ex cadets and families.]
Allah hafez
Nurunnabi Prince (44 N)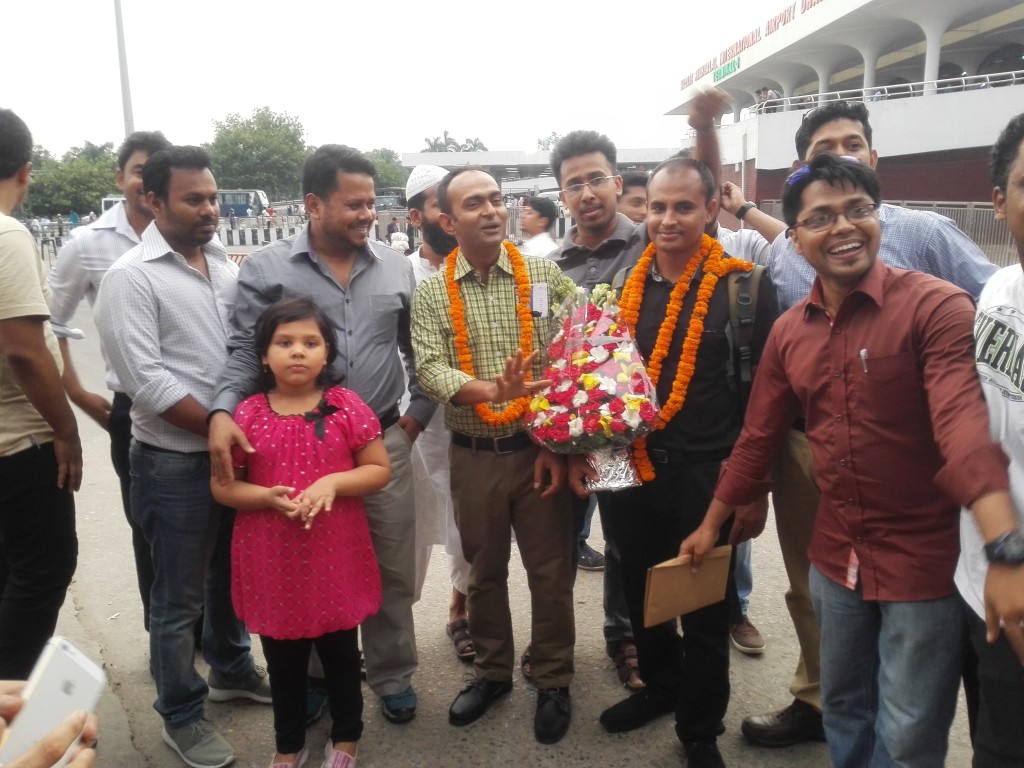 —————

Dear Baten sir,
Assalamu Alaikum, good day. Firstly thanks to you to help us for getting a new life & also thanks for giving us chance to see our families very soon. We people are grateful to all BD mariners around the globe for helping us to release from the darkness of Nigerian Jail.
Now we are waiting at the house of Ms Eta Saha ( Abuja, Nigeria) to coming back to sweet home to see our families after passing a long terrible sufferings. we are thankful to capt Zillur sir, president of BMMOA for taking this step & finally we got freedom. Under the leadership of capt Zillur sir you have done one vital role regarding the matter of releasing the four  bd seafarers from Nigerian jail & also we are thankful to honourable seniors who has done the vital roles from  Australia, Dubai, UK, USA, Canada regarding this issue. I am thankful to all of my batch mates (44th) for their contributions & specially to Kazi Md Abu Sayed, Muzahidul Azim Ruman, Nurunnabi Prince for their hard work. We are also thankful to great lady Ms Eta Saha as well as all non-professional great man who helped us for getting release from the darkness of  Nigerian jail. Again thanks to you as well as all BD mariners around the globe for their contributions. We are asking all of your prayer for our safe return. 
Thanking you,
Rafiqul Islam (44E),
Abuja, Nigeria.
Noted: In attached files there have some photo of us with great lady Ms Eta Saha at of her house, Abuja, Nigeria.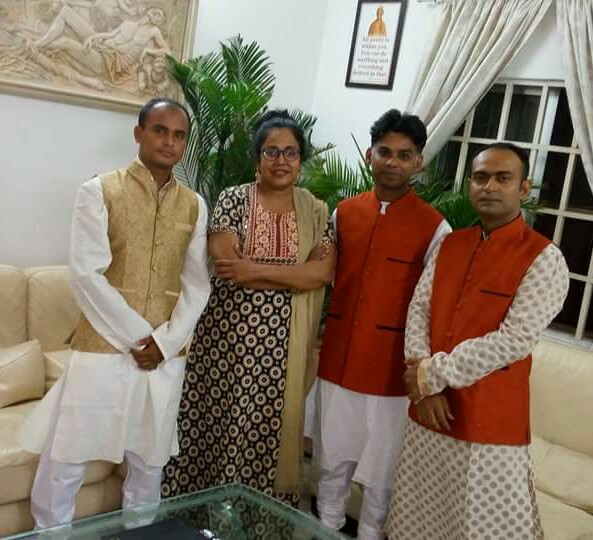 Update on 6th May 2016:
Finally yesterday our brother Zahirul got released from jail & arrived Dhaka yesterday evening (08 MAY 2016), 6 PM.
Courtesy: BDMariners google groups.
Photo of Mr. Zahirul Islam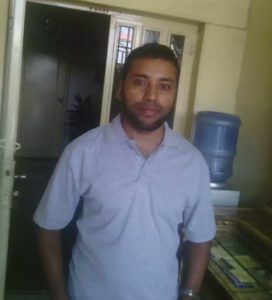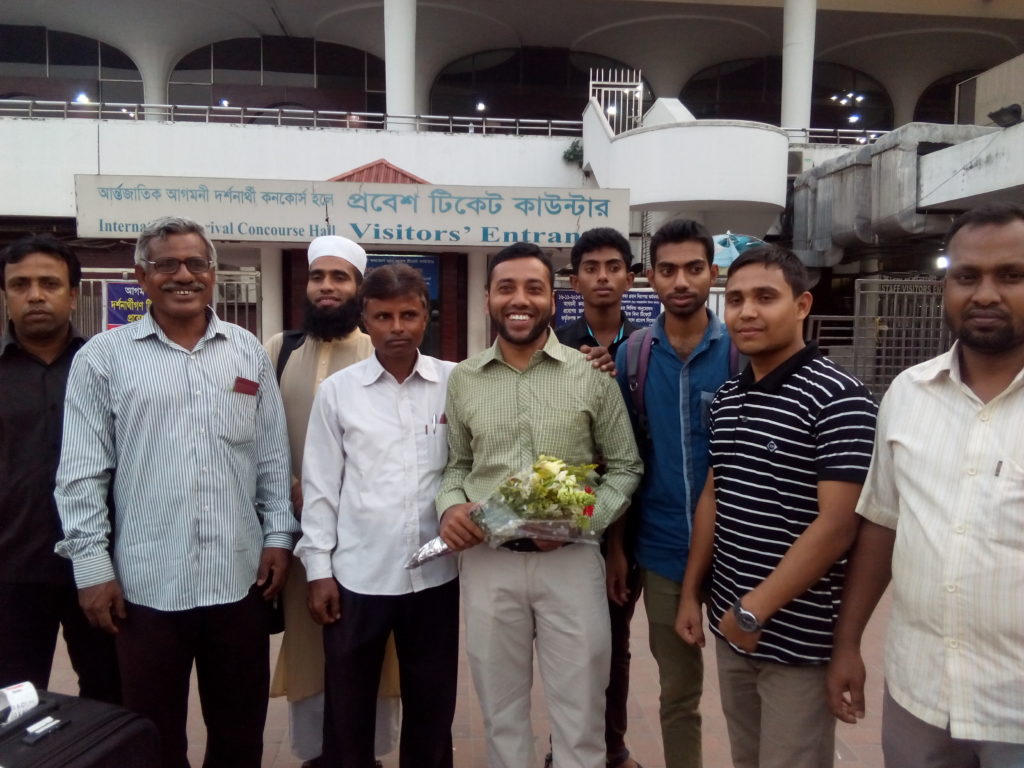 ——————
=====================
From Zillur Rahman Bhuiyan  (11 BD)
Dear Global Bangladeshi Mariners,
Assalaamu Alaikum and Good Day
The last of the four Bangladeshi seafarers jailed in Nigeria, Zahirul Islam, has arrived Dhaka yesterdayevening (08 MAY 2016), 6 PM,  Bangladeshi time. I have talked with him. He together with the other 3 seafarers are with their family members now.
Alhamdulillah – all praise be to Allah.
A total of 9 seafarers of the vessel ASTERIS were convicted by Nigerian Federal Court and jailed – 4 Bangladeshis and 5 Filipinos. The Filipino seafarers (including the Master and Chief Engineer) are still in the jail. When the Bangladeshi seafarers were coming out from the jail the Filipino seafarers stated "the Filipino seafaring community is quite large in number but they are not paying any heed to our sub-human life in the jail but a relatively small community of Bangladeshi mariners got you all out of this jail, what a lucky people you are, praise to the Bangladesh maritime community!"
I have no words to thank each of the members of global Bangladeshi mariners community.  Your money, your effort, your time, your kind words, your actions, your thoughts, your prayers – have made this mission possible. I can only say Jazakallah Khairan – Let Allah give you best reward for your good deeds.
Without the help and wholehearted sincerity of 2 non-marine individuals I cannot think that this campaign could see the light. Eta Shaha's over-enthusiasm while she visited Dhaka in getting fund and assistance from Bangladesh Government officials created doubt as to her actual intentions but at the end she proved herself to be selfless and she cares for humanity.  Mahiuddin Kader Khasru, a young IT Engineer from Jhenidah Cadet College (HSC in 1994) based in Dubai had the courage to use his best contacts to utilise the collected fund properly. His contact in Bangladesh also accelerated the sanction the fund from DoS/MoS. They deserve thanks from the Bangladeshi maritime community.
The significant fund contribution of Bangladesh Mariners Society (BMS) is noteworthy and without this financial assistance the fund raising and release of the seafarers would have been prolonged. Thanks to Engr. M A Rashid, the President of  BMS, to the EC officials and the members.
I must mention that the whole spirit of this campaign has been kept alive by the ex-cadets of 44th Batch of BMA. It is not that Rafiqul Islam (one of the imprisoned seafarers) is their batchmate, but they raised fund for all the seafarers in the prison and kept the family of the four seafarers together in actions and thoughts. Not being in good job situation they generated one lac taka from the batchmantes during the second phase of collection of fund. They were everywhere in Bangladesh whenever needed in this cause including being at the airport to greet all the four seafarers. The 44 Batch has displayed the sense of solidarity of maritime community.
The global regional coordinators in fund raising have been the main strength of this mission. My personal gratitude to you.
Without the full cooperation of Capt. Khair release of the four seafarers from the Nigerian jail would not have been achievable in such a short time.
I cannot think of the whole mission to be a success without each & every member of our Steering Committee being at my side every day and every moment in all difficult situations for the lastonemonth.
Fellow Mariners, I can tell you from the core of my heart taking into consideration of all the human interactions I observed from all sectors during this episode that this sort of benevolent response is not going to happen any more. My thoughts have already been reflected by Baten that all our fellow Mariners must take "Lesson learnt" from this incident. We need to conduct a full investigation to find out the root cause & conclude with recommendation to prevent similar incident's recurrence. The sole objective of this incident investigation is to identify our system lapses. Root causes and findings will be used to enhance safety awareness across our Global Mariners. And surely it is not the objective of this investigation to determine blame or liability. If we ignore to establish our counter-measures, I'm afraid that, the response that we have created now will not be available in future.
On behalf of BMMOA I shall be writing to DoS to take up the matter and after investigation to issue orders to all the manning agents, the Govt. Shipping Office and the seafarers organisations to avoid recurrence of such incident.
I think the Maritime Forum should form a committee to investigate into the matter and issue recommendations to protect the interest of the seafarers.
Just to let you know that the legal department of ITF has reviewed the Nigerian Federal Court order for the imprisoned seafarers and they noted that the seafarers were wrongfully convicted and as such they have taken over the task of making appeal against the conviction in the higher court of Nigeria. This is in progress and BMMOA as an ITF affiliate will continue to pursue this with ITF.
I shall be preparing a Payment-Receipt account of the fund raised globally and shall submit to the regional coordinators for review. Decision on any surplus/deficit will be taken after completing the accounts.
Dear fellow mariners, this incident has proved that if we have unity, good intention and sincerity we can achieve many difficult feats and let us take it from here.
Date: 12:22 PM on 9th May 2016