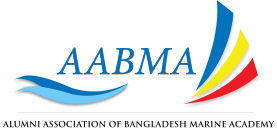 Newly elected AABMA executive committee for 2018-2019
Dear All,
Salam .
We are pleased to share that the Alumni Association of Bangladesh Marine Academy (AABMA) Election procedure for the new committee (2018-19) has just been concluded & declared ; The list of new committee members are attached herewith .
The new committee will take over from the AGM in January .
We wish the new committee a safe voyage with greater success .
Wishing you all a wonderful NEW YEAR with sound health, peace & prosperity .
Capt Malek,
GS, AABMA,
For the EC committee.

AABMA NEW EX. COMM. – 2018-19